Gold is a Non-renewable resource used to make in-game purchases, speed up armies and productions. New players will start with 500 gold. Among other ways gold can be replenished through the use of a micro transaction, in other words real money. Gold can also be obtained through other in game purchases such as special offer packs.
Gold can also be obtained by inviting new users by email, once your new user has completed basic training you will receive an additional sum of gold for free. (Circa Feb 2014 - currently 50 gold per new user added.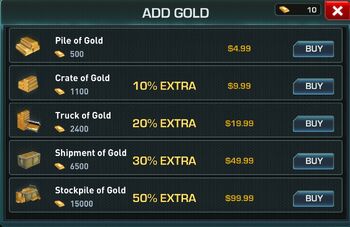 Disclaimer
Edit
War of Nations never removes player data, meaning your gold remains the same amount even if you delete the app or switch to a new world, thus making in-game purchases and inviting guests the only way to restore or gain more gold.
Recently added you can earn "free" gold in game by completeing offers. Available under the gold menu by pushing the yellow + in the upper right and scrolling all the way down.
In 2015 players can now earn 1+ gold every 15 minutes though the max amount of gold is 10.